Marketing Insider - Loyalty: The 'L-word' of Customer Relationships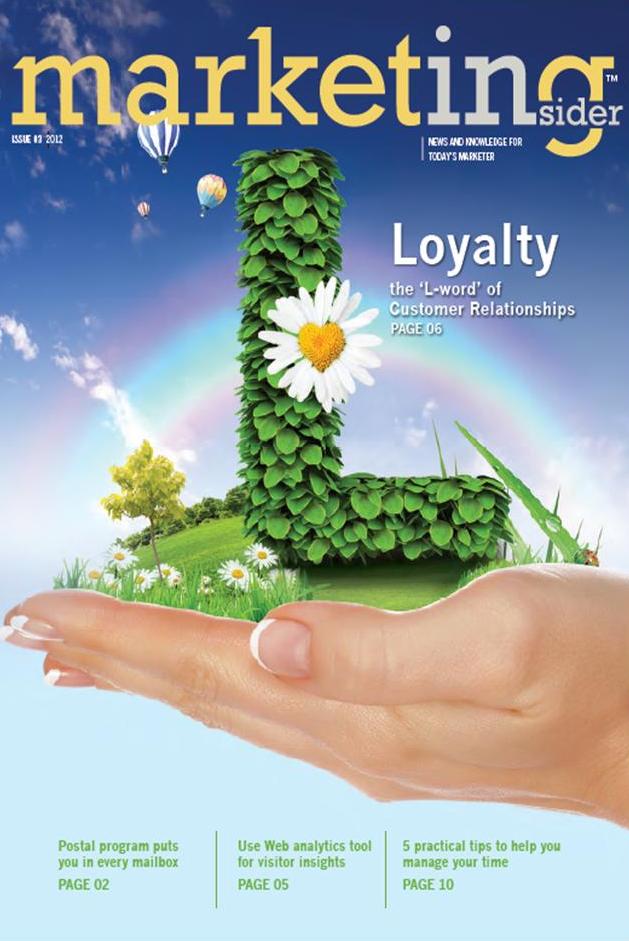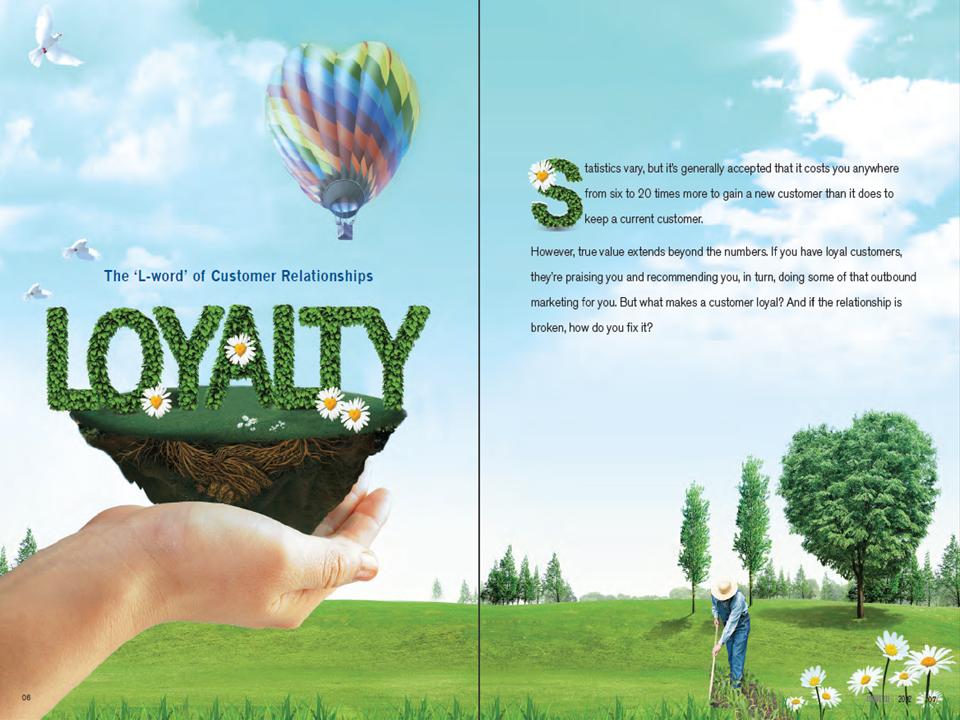 Loyalty: The 'L-word' of Customer Relationships
Statistics vary, but it's generally accepted that it costs you anywhere from six to 20 times more to gain a new customer than it does to keep a current customer.
However, true value extends beyond the numbers. If you have loyal customers, they're praising you and recommending you, in turn, doing some of that outbound marketing for you. But what makes a customer loyal? And if the relationship is broken, how do you fix it?
Dianne Durkin, founder and president of Loyalty Factor, a consulting and training company that enhances employee, customer and brand loyalty, says customer loyalty is actually a partnership. To glean the most value from customers, you need to provide value to them, too.
Loyal customers help your business grow
They are your biggest advocates. They recommend you and can introduce you to new clients. And they don't mind at all. According to Durkin, using these advocates as references helps them to feel needed and valued which translates well into something crucial for relationships: rapport and true connection. "People buy from people, they don't buy from companies," Durkin says. "To build rapport, treat other people the way you want to be treated and always build trust."
It's important to nurture your customer relationships and avoid breakdowns in communication. Durkin says one of the most common ways to lose loyalty is failing to follow through on what you've promised, frequently a delivery date or time. What is the cost?
• A dissatisfied consumer will tell between nine and 15 people about their experience. About 13% of dissatisfied customers tell more than 20 people. (White House Office of Consumer Affairs, 2011)
• 86% of consumers will pay up to 25% more for better customer experience. (Harris Interactive, Customer Experience Impact Report, 2011)
• It takes 12 positive service experiences to make up for one negative experience. ("Understanding Customers" by Ruby Newell-Legner)
Remember those VIPs known as company advocates? Losing a customer means you're also losing all of the additional business an advocate could have sent your way. So, how do you repair the damage that's done?
Durkin says one of the most important things to do after admitting a mistake is to ask a customer how you can make it up to them. This means listening. "Questions are your secret weapons," she says. "Ask, 'What would you recommend I do to help in this situation?' Or, 'If you were in my shoes, what would you do?'"
Unhappy customers have many more communications channels and ways to reach a larger audience than ever before. Here are some of Durkin's "fix-it" strategies:
Negative online review
Some may not be worth paying attention to, but those that could have far-reaching effects should be addressed. If possible, send a personal email to the disgruntled party and post a public response that explains your steps to make it right.
Negative comments on social networking pages
The right approach is situational, but Durkin recommends always keeping your social network current with your most positive commentary. Delete comments that are inappropriate or offensive. Engage your advocates, and ask if they'll reach out to others on your behalf. When you have advocates willing to help you, Durkin says it's best to draft what you want to say and then have your advocates deliver your messages.
Email with an error
Should you send a correction? According to Durkin, it depends. A misspelling of a customer's name may not be worth calling attention to, but if you have an erroneous amount in an offer, that's a different story. Durkin recommends sending a correction email that says: "In the excitement of this offering, we miscommunicated. We want to take the opportunity to clarify and to thank you for your business."
Dormant accounts
How do you determine if you've let these former customers down, and how can you win them back?
Pull out a list of those with whom you haven't done business in the past year. Mail a letter, package or postcard to them with a "welcome back" offer, if appropriate.
"Or hire an outside firm to call dormant accounts," Durkin says. "They will tell the surveyor things they will never, ever tell you. To get the most useful information, the surveyor should ask specific questions such as, 'Tell me why you no longer do business with company X.' and 'If there's something company X needs to stop doing, what is it?'"
Durkin says that even after getting responses, more questions should be asked. For example: if a customer says you can win them back with a discount, ask why it's important to them. There may be a buried solution to uncover. And overall, these calls should always sell the value of what you offer that can't be found anywhere else.
http://www.allegra-east.com/thinking-behind-marketing-results/insider
©2012 Allegra Network www.allegranetwork.com
Posted with permission
Brave new world of home-based business

By Christine J. Davis
 January 16, 2012
If you think back not even 20 years about home-based businesses, you might envision a low-tech service business such as a daycare or landscaping company. To run a professional business, you needed to be located in commercial office space. Not only did commercial space provide the technical services you needed, but it also provided a professional atmosphere appropriate for meeting with clients.
Today, that is no longer the case. Many small, predominately service-related businesses are home-based and are able to perform the same functions that once were restricted to commercial space. There are some obvious advantages and some resources available that make the home-based business a good choice for the right person.
Before you decide to open up shop from your home, a serious self-examination should take place, and there are several questions you need to ask yourself. "Do I have the discipline to maintain a focus on my business if it is run out of my house? Is there an adequate space in my home that can be used as an office? Are there distractions that will pull me away from my business focus? Will family and friends respect my work time?"
These might seem like obvious questions, but if you can't separate home from business while working out of the house, you won't be successful.
With the incredible advances in technology over the past two decades, you can run a small business from your home with the same access to high-speed Internet that you get at many offices. What you may not have is a professional space for client meetings, which raises several considerations: How many of your interactions will be face-to-face? Is it expected that you will go to their place of business or do they need to come to you? What image do you want to portray?
For example, if you are bringing major clients to your home to showcase your engineering capabilities, will they hesitate or question your business acumen if the meeting takes place in your garage? This hurdle can be overcome by using fee-based conference space, such as that offered by I.O.S. in Portsmouth. Conference rooms can be rented for an hour or the day. This is a great resource for someone who can do most of their work from home but who occasionally needs a professional setting for meetings and presentations.
A home-based business can provide a great cost-savings, as you not only save by not paying commercial rent, but the space devoted to business purposes can be used as a tax deduction. A portion of the utilities can also be factored in as tax deductions, but they have to be in proportion to the size of your office space. You may want to have an accountant assist with this because it can become an issue with the IRS if done improperly.
Dianne Durkin, president of Loyalty Factor in Portsmouth, started her company 16 years ago with the express intent of keeping it based out of her home. She likes the home-based environment because, "I can be creative and innovative at any time with all the resources available to me whenever I need them." For instance, she may wake up in the middle of the night inspired by an idea and being home-based means she doesn't have to wait until typical business hours to flesh it out. Dianne often puts in some office hours over the weekend, but she says that when she is done for the day, she closes the doors to her office to help create the separation between home and workplace.
Loyalty Factor has four employees, including Dianne. One staff person splits hours between home and Dianne's place, another works full time at Dianne's home, and the third employee works part time at the business. Dianne and her employees dress professionally at the office, as they would in any other business setting. Asked about misconceptions of having a home-based business, Dianne said, "You won't find home-based professionals working in their pajamas all day from a dining room table. It just isn't conducive to productivity."
There goes my dream.
Whether you have been in business for 20 years or are just getting started, we have the resources and the expertise to answer your questions. You can e-mail me at This email address is being protected from spambots. You need JavaScript enabled to view it.. I look forward to hearing from you.
Christine J. Davis works for the N.H. Division of Economic Development as a resource specialist serving businesses in Rockingham and Strafford counties. Her role is to provide the support needed for businesses so that they may remain viable and growing entities in the community. Davis lives in Exeter with her two daughters.
USA Today - What employers want- 5 more skills to cultivate

What Employers Want:
5 More Skills to Cultivate
May 30, 2011
http://www.usatoday.com/money/jobcenter/workplace/kay/2011-05-30-skills-employers-want-part-ii_N.htm
Business NH Magazine - New Leadership Guide Challenges Managers

New Leadership Guide
Challenges Managers
 Published Tuesday, June 7, 2011 7:00 am
Dianne Durkin helps readers in leadership roles modify their skills to inspire and support employees in her new book, "The Power of Magnetic Leadership: It's Time to Get R.E.A.L."

With this new book, author Durkin sets out to prove wrong those people who think they don't possess a leadership streak. Whether her readers are newly appointed leaders or veterans, Durkin explains how to transform their organizations, energize their employees and boost profitability, productivity and the overall success of the company.

Durkin uses the R.E.A.L. acronym as a guide by breaking her book into sections. "R" is for recruiting the right people at the right time in the right place and retaining them; "E" stands for engagement, empowerment and enrichment; "A" means appreciating employees; and the "L" stands for leadership and building loyalty. The book details how a leader can be a magnet for attracting and retaining top talent while maximizing their skills and efforts to build profitability and productivity. Be a money magnet.

The book further explains how leaders can arm their employees with the knowledge and stamina to regularly carry out the organization's goals, and how to create an environment that nurtures and supports results. This plays into keeping employees happy and productive, and Durkin says this comes from appreciating employees. In the end, leadership leads to loyalty, says the author. Leadership is not about one's ego, but the leader's ability to mold a loyal, productive group.

According to Durkin, "Readers will have the opportunity to look at themselves as leaders while reading this book. As they answer some of the questions, they are changing into a Magnetic Leader who inspires others."

Durkin asserts that, in order to stay relevant and competitive in today's fast-paced market, companies must perform better than ever, and recognize that the keys to success often lie within the organization.

"The Power of Magnetic Leadership: It's Time to Get R.E.A.L." is available for sale online at Amazon.com and other channels.

About the Author: Dianne Durkin is founder and president of Loyalty Factor, a consulting and training company that enhances employee, customer and brand loyalty for some of the nation's most prominent corporations and small businesses. She has more than 25 years of experience in training and development, finance, direct sales and international marketing. Durkin previously published "The Loyalty Factor: Building Employee, Customer and Brand Loyalty."

Visit www.loyaltyfactor.com
http://millyardcommunications.com/index.php?src=news&srctype=detail&category=News&refno=2401
USA Today - Teamwork, creative thinking among the traits employers value

Teamwork, Creative Thinking Among the Traits Employers Value
May 25, 2011
http://www.usatoday.com/money/jobcenter/workplace/kay/2011-05-23-employers-value-creativity-teamwork_N.htm?loc=interstitialskip#