Leadership Excellence - Magnetic Leaders: Take These 10 Critical Steps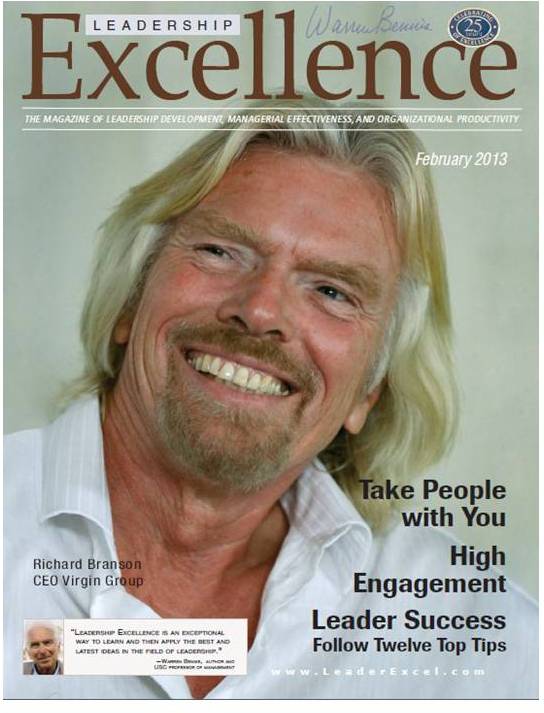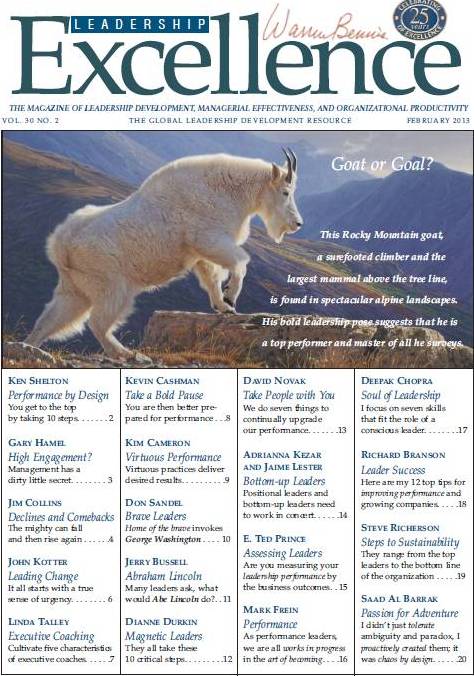 Magnetic Leaders
 Take these 10 critical steps.
WHAT DO THE LEADERS of top companies do to create and nurture an inviting workplace that is filled with fully engaged and enthusiastic employees? The best leaders engage employees, set the example by showing how to play well with others, and inspire people by demonstrating that every action they take is relevant to them and to their constituents.
The best leaders know how to listen, make a promise and deliver on that promise, and make the necessary investment to engage their employees. They motivate, inspire and energize people by connecting the vision, values, purpose and business goals of the organization to individual values and needs. Here are 10 actions you can take to improve your leadership.
1. Develop your vision. Make sure you have a vision with the purpose and values to make it real. State where you are going clearly. State your purpose simply. Express your values—the things that you use to guide every action people take at work—directly.
2. Identify your leader type. Knowing who you and what type of leader you are helps you and others identify where, when and how to best behave and act to focus their time and energy to achieve the goals and objectives you set out for them.
3. Track your leadership development progress. Keep a leadership log to document what you do and what happens. Review what happens regularly. Reflect on what you are learning and how you are changing.
4. Recruit and retain the right people. Identify what makes individuals successful in your culture, and recruit for those skills. The culture will keep them loyal and happy, and exceed all expectations. Improve your interview and listening skills so you can hear what your people are saying. Take immediate action when you identify something that needs to be improved.
5. Engage, empower and enrich your employees. Invite them to become part of your vision. Empower them to be a force of change and be enriched by your culture. Make them part of the solutions, by giving them a role and the responsibility for implementing solutions to major business issues.
6. Create a work environment that fosters creativity and innovation. Go beyond simply improving the physical environment. Focus on how people feel. Evaluate the energy when you walk the floors. How connected to their teams do virtual or remote workers feel? Make changes to ensure that the work environment fuels your objectives and helps to achieve your goals.
7. Appreciate and reward your employees. Develop and deploy a schedule that regularly and meaningfully rewards employees to create a culture of appreciation. Assess and improve the way you reward people so that you are sensitive and responsive to the differences in age, education, maturity, and demographics.
8. Focus on things that inspire your people. Identify what inspires you and your employees. Do they need more education and training, more creative time and cross-training opportunities, wellness programs to promote less stress and better health, or even a sabbatical? Develop and improve the key programs that your people need to stay engaged and loyal.
9. Improve the most important things first. Identify your major short comings head-on. Identify what boosts your progress and what holds you back. Are you a poor listener, a technophobe, or do you yell and rave? Admit it. Then take action to get help, fix your problem, and improve your own performance, skills and abilities.
10. Visualize the future. Identify where you see yourself in 10 or 20 years. Define the characteristics of the leader you want to be and what the future looks like for you. Describe how you'll balance your personal and work life and how you'll build loyalty and trust.
Great leaders lead magnetically by fully engaging and empowering people, transforming them into innovative thinkers and major contributors. Appreciating effort and rewarding results generate loyalty and impact profitability.
The best leaders go beyond cultivating their skills—they create a culture of leadership by inspiring others to lead. Let's explore the vision, purpose and values of great leaders.
• They use leadership like an engine of innovation that runs on change, truth, communication and vision. Great leaders make a difference in the lives of their people, organizations, and the processes that cultivate the business.
• They want workers to bring their brains to work. The fastest way to lower organizational IQ is to create a culture of followers. Employees who follow the rules and never think outside their job descriptions don't contribute to organizational success.
• They appreciate and acknowledge their employees. People want and need more than money to be motivated. What people want is a basic emotional human need—to feel appreciated.
• They create loyalty. Leadership is not an ego game but rather it is purpose driven. Frances Hesselbein, CEO of the Leader to Leader Institute, lauded for her role as CEO of Girl Scouts of America, says: Great leaders put their purpose first—never their own egos.
• They know that leadership impacts the bottom line. Leadership requires adapting to changing forces in the marketplace, managing generational differences and embracing social responsibility and philanthropy. In summary it creates a healthy environment that is a powerful force that impacts productivity and profitability.
• They own an authentic personal brand. In the age of social media, personal brands grow and spread on Twitter, Facebook and the Blogosphere. Every leader needs to preserve their honesty, integrity and personal image.
• They hold themselves accountable. Many use the Get REAL approach to leadership: Recruitment to not only attract the right people but ways to retain them; Engaging, empowering and enriching employees by providing the right environment for success; Appreciating people with not just money but recognizing their efforts that go above and beyond their job description; Leadership leads to loyalty. Leadership is first about purpose.
When leaders attract the right people and engage, empower and appreciate them, they foster loyalty, productivity, and profitability.
LE www.leaderexcel.com
Dianne Durkin heads Loyalty Factor, a consulting and training company, and is author with Carey Earle of The Power of Magnetic Leadership (CreateSpace). Visit ww.LoyaltyFactor.com, call 603-334-340, or email This email address is being protected from spambots. You need JavaScript enabled to view it..
ACTION: Take these 10 actions to top performance.