The Loyalty Factor: Building Employee, Customer and Brand Loyalty
The source of the most powerful form of marketing— word of mouth—is within the walls of every company. It's called loyalty, and successful leaders know its value.
Drawing on more than 25 years as an expert in the field, author Dianne M. Durkin shows you how to build a loyalty-driven organization from the inside out, based on this deceptively simple formula: 
Employee loyalty drives customer loyalty, which drives brand loyalty.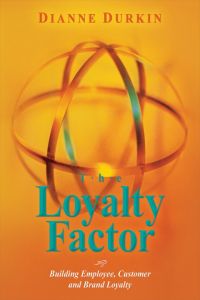 Durkin's book, THE LOYALTY FACTOR outlines the five essential steps to building THE LOYALTY FACTOR process, shows CEOs and mid-level managers how they can make or break a loyalty initiative, and provides a guide for managing in times of large-scale change or crisis.
THE LOYALTY FACTOR features case studies from some of America's most-admired and best-managed companies—including Amgen, Best Buy, Green Mountain Coffee, KitchenAid, Kronos, Southwest Airlines, Tiffany, Timberland, and Whole Foods. Packed with proven methods for translating allegiance into bottom line results, this timely and practical book shows the power of loyalty in action!
"This is a wakeup call to executives in any business. THE LOYALTY FACTOR is spot on wisdom for creating sustaining value in any business. Loyalty is many times taken for granted or assumed but as Dianne so passionately points out, management must take actionable ownership to create and enhance loyalty in their business. The examples and concepts illustrated provide a structured approach to jump-start the loyalty building process. Building THE LOYALTY FACTOR will become a strategic part of running our business."
- Pete Wilson, President & CEO
"Successful companies are all about loyalty - from employees, customers, investors etc. THE LOYALTY FACTOR provides some great insights on how to build and maintain loyalty over the long haul."
- Joe DeMartino, Vice President
"The step-by-step procedure outlined in this book, is a brilliantly simple yet profound formula for successfully creating and maintaining employee, customer and brand loyalty. It is a must read for CEO's, managers and anyone who wants to improve their organization."
- Joseph Allard, Professor of Business, Vice President of Academic Research
"Dianne creates a clear and simple roadmap for driving employee loyalty, customer loyalty, and ultimately brand loyalty. And to show that it CAN be done, the book is jam-packed with terrific examples of companies that have done what it takes and succeeded!"
- Kathleen Brown, Vice President, Career Transition Services, Chief Operating Officer
"THE LOYALTY FACTOR is an excellent resource for any company executive. Dianne Durkin really "gets it" in understanding what's going on in Corporate America. With the economic downturn in the past 4-5 years, company executives have been focused on surviving ----and not much attention to loyalty. Now with the emergence of a more vibrant economy, loyalty must be a priority. THE LOYALTY FACTOR will focus executives in the right direction."
- Dick Dauphinais, President & Founder