MS. NH SR America
Union Leader - New MS. Senior NH A Woman of Many Titles
* Can-do attitude: Dianne Durkin's roles have included financial analyst, technical support, top saleswoman, corporate trainer, business owner, motivational speaker - and now, pageant queen.
By Kathleen D. Bailey
Monday January, 12, 2009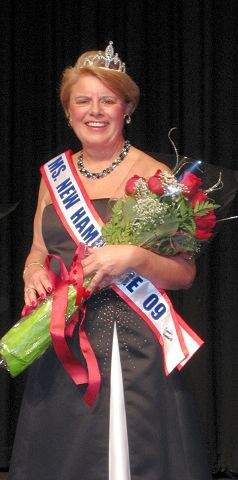 When a friend of Dianne Durkin urged her to enter the Ms. Senior New Hampshire pageant she at first demurred. "I told her, I don't have a talent," Durkin said. "And my friend told me, 'You've got the best talent in the world as a motivational speaker'."
The word "can't" seldom comes up in Durkin's conversations. The new Ms. Senior New Hampshire lives by goals. Her goal for the year she wears the sash and crown is to touch as many lives as possible, and to be an advocate for others in the prime of life.
Durkin, 61, entered the pageant "on a dare." It was her first pageant ever.
A native of Palmer, Mass. She received a bachelor's degree in math education from Rivier College in Nashua, and a master's degree from Duquesne University in Pittsburgh.
She worked as a financial analyst for Gulf Oil, in technical support for GE Information Systems, and was asked by GE to move into sales. She at first resisted the idea, thinking, "I'm not a Puller Brush person." But she gave it her best, captured the title of top salesperson on the East Coast, and was one of the company's first female salespeople. She moved into a position as corporate sales training manager for Digital, supervising 750 people around the world.
But Durkin dreamed of being her own boss, and in 1990 she opened her consulting business, Loyalty Factor, in Nashua. She does specialized consulting and training, with 36 to 38 different programs offered.
She also had a goal of living in New Castle, and lived and ran her business there until moving to Portsmouth 2 years ago.
As a corporate trainer, Durkin for used to being in front of people, so she wasn't nervous about being in the pageant.
Her biggest challenge, she said, was "getting to the rehearsals! The woman who was running it said, 'Do you think you can make the Friday night rehearsal?' I said I hadn't rehearsed my talent yet." When the organizer pointed out the pageant was that Sunday, Durkin said, "I have all day tomorrow!"
She wrote her motivational speech on Saturday, delivered it on Sunday, and captured the crown. "I did a motivational talk on how to communicate and build relationships," she said.
The pageant also included a "philosophy of life" statement, an interview with the panel of judges, and an evening wear competition. For the formal wear competition, she wore a black satin strapless gown with a white underskirt and a crystal starburst pattern on the bodice.
Durkin, who admits to having the energy of the "Energizer Bunny," knew before she was crowned that she wanted to do more with the title than her predecessors. Her interview question was, "If we were to crown you queen, what would you do?" She recalled, "I said I did not feel New Hampshire truly embraced the pageant as much as other states. Most of the queens do two or three appearances. I want to do six or eight a month, and spread the word."
Part of that "word" is her platform, which Durkin sums up as, "My whole philosophy of life is to be the best you can be, and help others be the best they can be."
In her new position, Durkin wants to advocate for other seniors. She's interested in health care, preventing brain injury, and the aging workforce.
As she relaxed in her light-filled white living room, she said, "I want to talk to companies about hiring people over 50, to prepare for the upcoming labor shortage. I want to help develop n assessment that we can give Chambers of Commerce on how to manage an aging workforce."
She'll be working with the New Hampshire Brain Injury Foundation in Concord and speaking on health and wellness to various organizations.
A passionate golfer, she hopes to make appearances at golf charity events. She also loves to cook and entertain, and will be speaking at an upcoming wine tasting at Wentworth by the Sea. She's also been in touch with AARP and other senior organizations.
"I want to leverage this title to make a real difference," she said. She has engaged Erika Lehman of Dover, a pageant veteran, to help her make connections.
Durkin is blonde and slim. She works out and watches what she eats. "When I was thinking about starting my own business, I was nervous, and my brother gave me the best compliment ever. She said, "You have the energy of an 18 year old, the body of a 35 year old, and the brains and experience of a 50 year old. Why would you even think twice about it?"
In October, she'll be off to Atlantic City for the National Ms. Senior pageant. "I hope I have an impressive track record when I go to Nationals," she said.
When she comes home she'll continue to build her business, stay healthy, care for her aging parents – and work on her long-term goal of living to be 100.
For that milestone birthday, her "perfect day" will include nine holes of golf at her country club, Wentworth by the Sea. "I'll probably use a cart," she said.
She'll follow that with a birthday lunch of champagne, fois gras, a salad with goat cheese, and crème brulee – "all my favorite things. Then," she said with a smile, "I'll probably take a nap."
To schedule an appearance by Dianne Durkin or to discuss issues affecting seniors, call her office at 603-334-3401 or email This email address is being protected from spambots. You need JavaScript enabled to view it..