MS. NH SR America
Seacoast Online - Miss Senior NH Setting Sights High
'Inspiring' business owner in it to win national title
By Aimee Lockhardt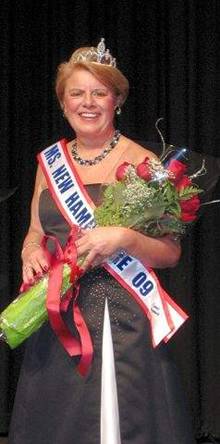 This email address is being protected from spambots. You need JavaScript enabled to view it.
October 03, 2009
PORTSMOUTH — Dianne Durkin has always been a hard worker.
Growing up in Palmer, Mass., Durkin was 8 years old when she started answering phones and taking care of customers in her father's Palmer's Window Products showroom.
She took time during her childhood to dabble in tap dancing, play a little golf and even become a majorette in her high school band. All of this as she remained within the top 10 percent of her class.
"I studied very hard," Durkin said. "It's part of my whole philosophy. If I'm going to do something, I'm going to do it to the best of my ability."
This remained true through college, where she continued to stay within the top 10 percent in addition to working two jobs. And now at 62, she hasn't slowed down one bit.
She's published two books, runs her own business, gives motivational speeches, works 12- to 14-hour days, and still has time to be Ms. Senior New Hampshire. Her business, The Loyalty Factor LLC is a Portsmouth-based training and consulting firm that specializes in change management, employee loyalty and customer loyalty programs.
On Oct. 7, the entrepreneur hopes to take the grand title of Ms. Senior America, and her hard work just might pay off.
"I tend to be able to handle a lot," Durkin said with a laugh. "I thank the good Lord I don't require a lot of sleep."
Durkin never considered herself one for beauty pageants. In fact, she got involved with Ms. Senior New Hampshire on a whim. Durkin had been talking with a friend one day when they stumbled on an advertisement for Ms. Senior America — a pageant for women who have reached the "age of elegance," that is 60 and older. The women had never heard of the pageant before and called to find out about it.
"She dared me to do it," Durkin said, "and I did it and won. She really thought I had the charisma, charm and intelligence to do something like that and represent the state in a professional manner."
Durkin signed up only a week before competing in four categories: philosophy of life, interview, talent and ball gown. But what really seemed to win the judges were her responses to the interview and philosophy of life components. In the interview process, Durkin declared that if she were to win, she would help to make the Ms. Senior New Hampshire pageant more well-known and would devote herself to making six or eight appearances a month versus the regular two or three.
"I really wanted to move the pageant along," she said. The board went as far as to tell her that she is the best queen they ever had, she added.
Durkin has made appearances on radio and television shows, at ribbon cuttings, spoke at conferences, visited nursing homes and senior centers, and had an interview with Gov. John Lynch.
But it was the philosophy of life question that Durkin set her platform upon.
"To be the absolute best you can be and help others to be their best by sharing knowledge and being helpful," Durkin said was what she strived to do in life and as Ms. Senior New Hampshire. For Durkin, this philosophy can be executed in the simplest of manners, such as when she makes an appearance and removes the crown from her head, allowing all the women in the room to try it on. "You're the queen today," she'll tell them.
"It puts smiles on people's faces," she said. "It's making a difference in people's lives. I inspire women to be the absolute best they can be. It's so gratifying."
In addition, Durkin tries to educate those around her and has a personal connection with one of the main issues she combats as Ms. Senior New Hampshire
"I have a father who has a brain injury," Durkin said. "He requires specialized care, but it doesn't exist in a nursing facility and they're trying to put him in one."
Durkin said it is one of her goals as Ms. Senior New Hampshire to get the general public to understand the health care plan and its affect on the elderly. Durkin said she has been speaking with congressional representatives and senators about whether they understand the health care plan, which she says is not supportive of the 74 million people reaching their 60s today in America.
Admitting she is no expert, Durkin said, "If you read between the lines, once you get to a certain age, you don't get some tests. People would not be able to get tests or treatments that they need to sufficiently diagnose a situation."
Another way Durkin tries to motivate people to be the best they can be is by showing them they're never too old for anything. Durkin takes a traveling "variety show" with her when she visits senior centers or nursing facilities. In the show is a 68-year-old tap dancer, an 89-year-old who sings and dances, and a woman in her 70s who can play the piano by ear.
"No one can believe the ages," she said. "It's unbelievable."
Durkin also gives a speech titled "12 Ways to Live Until 100" in which she speaks about nutrition, vitamins and acupuncture, to name a few.
Now she has her eyes on the Ms. Senior America crown. She says, if she wins, she'll continue her platform, except at a national level. Her hopes are to be involved with issues in Washington, D.C., and work with politicians and hospitals to spread the word about health care. In addition, she'd like to make as many appearances as possible within the states she visits, but one of her main goals is to get Donald Trump involved with the pageant.
Trump currently is a sponsor for the Miss Universe, Miss USA and Miss Teen USA pageants.
"I'd like to have him be a sponsor ," Durkin said. "The population is aging, and it's a huge population that offers a lot to the world. I would like him to recognize that."
Durkin will fly to Atlantic City on Oct. 4, where she will compete in preliminaries on Oct. 6 and finals are Oct. 7.
"I really hope to win and represent the state," she said, "so people can be really proud of Ms. Senior New Hampshire this year."