MS. NH SR America
Portsmouth Herald - City Woman Crowned at 61
By Shir Haberman
This email address is being protected from spambots. You need JavaScript enabled to view it.
November 25, 2008 6:00 AM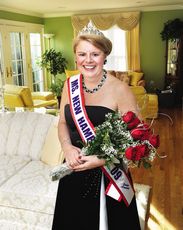 PORTSMOUTH — Beauty, brains and the desire to make the world a better place. These are just some of the traits that garnered local resident and business owner Diane Durkin the title of Ms. New Hampshire Senior America on Sunday night in Manchester.
This was Durkin's first time in the competition, and she came out the winner.
"I did it on a whim," she said Monday. "A friend dared me to do it."
The 61-year-old Durkin owns and operates The Loyalty Factor LLC, a training and consulting firm that educates executives, managers and employees in ways to build customer and brand loyalty. She said her training as a public speaker helped her to earn the title.
"I'm a motivational speaker," she said. "My talent (in the contest) was I did a brief presentation about the rapport necessary for building solid relationships."
In addition to the talent portion, the pageant also involved interviews with the judges, an evening gown competition and the definition of a goal contestants wanted to achieve in becoming the 2009 Ms. New Hampshire Senior America.
"Mine was to be the absolute best you can be — and help others to do the same by learning something new every day, sharing that knowledge with others, acting with integrity in all you do and using those simple two works — thank you," she said.
As an entrepreneur and former senior manager with such companies as Gulf Oil and Digital Equipment Corporation, Durkin has more than 25 years of experience in training, finance and international marketing. Durkin is also the author of "The Loyalty Advantage" (AMACOM, April 2005) and "Blueprint for Success" (Insight Publishing, March 2008).
She has been featured in The New York Times, Wall Street Journal, Fortune magazine, USA Today, Investor's Business Daily and The Boston Globe, among numerous other publications.
Durkin said holding the title is "like having another job" because of the number of appearances she will be making over the course of her one-year reign. However, Durkin sees this as a challenge and an opportunity to spread her own personal gospel.
"I believe 60 is the new 40, and I want to get out there and make people feel like they can still achieve at 70, 80, 90 years old," she said. "What (winning this title) means it that there are lots and lots of opportunities for those of us who are in our age of elegance."
It is obvious that Durkin has no plans to retire any time soon.
"I plan to write another book, and I continue to be an adjunct professor at UMass-Lowell and Plymouth State," she said. "I love what I do."
Winning the title could also help Durkin grow her firm, she said.
"I think it will help my business," she said. "I've made a lot of national contacts already."
She also said she loves the many new opportunities being Ms. New Hampshire Senior America is providing for her.
"Someone told me: 'This is going to be a whole new life for you,'" Durkin said. "I've already made three appearances since winning the title yesterday, and one was at the Veterans Nursing Home in Tilton.
"Everyone wanted to take a picture with me," she said. "I loved putting smiles on the faces at the nursing home."
Durkin's win is the first step in becoming Ms. Senior America. The national competition will take place in Atlantic City, N.J., in November of next year.