MS. NH SR America
Nashua Telegraph - Senior Class - Beyond Beauty
Monday, November 16, 2009
Corey Perrine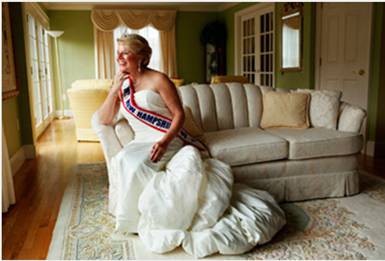 Diane Durkin, 62, of Portsmouth, is confident, to say the least. A few years ago she wanted to compete in a golf tournament in Rye, so she learned the sport. Hours upon hours of practice later, she won the tournament. Not just once: four years in a row to be exact. Three of those times were in the senior division (50 and older) and one year in the regular division. "No matter what I do I'm going to be really good at it," Durkin said.
Another challenging opportunity arose. While looking in the newspaper last fall she noticed an advertisement for the Ms. Senior New Hampshire beauty pageant. Her friend egged her on. Durkin thought back then, "I can't do this, I have no talent." Eventually, with enough convincing, she entered. "I wasn't nervous at all," Durkin said. "I was like, 'Hey, it's just a lark,'… I just thought I was going to have fun with it and that's what I did."
What started as "Sunday afternoon fun" gave Durkin a full-time, part-time gig on the side. "I thought I had a pretty good chance," she said. Next thing you know she's juggling work during the day and pageant queen duties at night. "The biggest thing I learned about myself was how flexible I really am," Durkin said. "I knew I was flexible before, but I learned how to juggle from going from consulting with a CEO or involved in a press conference to an assisted-living facility and make that as seamless as possible."
During her year-long reign as Ms. Senior New Hampshire, she's conducted variety shows at dozens of senior-living facilities, been a guest on a handful of radio and TV shows, accumulated miles in parades, and been involved with fashion shows and other public events. However, at the end of the day she's just like you and me, she said. Her vices are nachos and chocolate.
In a week she will pass on her full-time duties to a new winner, but she will always be involved as past winners and contestants are called to be involved whenever they can. "It's a lifelong responsibility," Durkin said.
Her next challenge will be finding her soul mate. However, she knows she can be intimidating. "He's got to be younger than me. My doctors tell me I have the organs of a 38 year-old and the energy of a 18 year-old; most people can't keep up with me," Durkin said with a laugh.
"I just know that will happen; in time, it will happen."
The bigger question is: Is there a man out there willing to accept that challenge? The Ms. Senior NH Pageant will be at 1 p.m. Sunday, Nov. 22 at the Derryfield Performing Arts Theatre on River Road in Manchester.
If you have a senior story or issue to tell, about a different topic other than the one above, please contact Corey Perrine at 594-6466 or e-mail him at This email address is being protected from spambots. You need JavaScript enabled to view it..